Why everyone is lying about social selling tools?
Ever since we started to build our own social selling software (Breakcold). I've always been fascinating to see all the lies that are spread on the internet about the subject, just for the sake of "ranking" on Google.
This article is not written for SEO, it's to break all the myths creating around social selling softwares. From review websites to niche blogs, seems like everything is getting social selling wrong.
In the words social selling, there is the word "selling". So let's see what real and what's not.
Lie number 1: social selling is content marketing
Social selling is not content marketing. When you look at social selling software rankings like the ones on G2 or Capterra, you notice that content scheduling softwares are everywhere.
Buffer, Hootsuite, ActiveCampaign, Loomly? It doesn't sounds right to me, that's why I also tried to write about 17 true Social Selling Tools in the past.
So if social selling tools are not content scheduling softwares or Social CRMs, what are they?
Example of softwares in the social selling software of G2
What is a Social Selling Tool?
A social selling tool is a software that allows you to build B2B relationships faster through the use of social media so you can make more sales.
It's a** mix of sales prospecting, relationships building and content scheduling**. Therefore, those are the 3 pillars of any social selling strategy.
The most famous one is content marketing on B2B social media like LinkedIn but that's just part of it.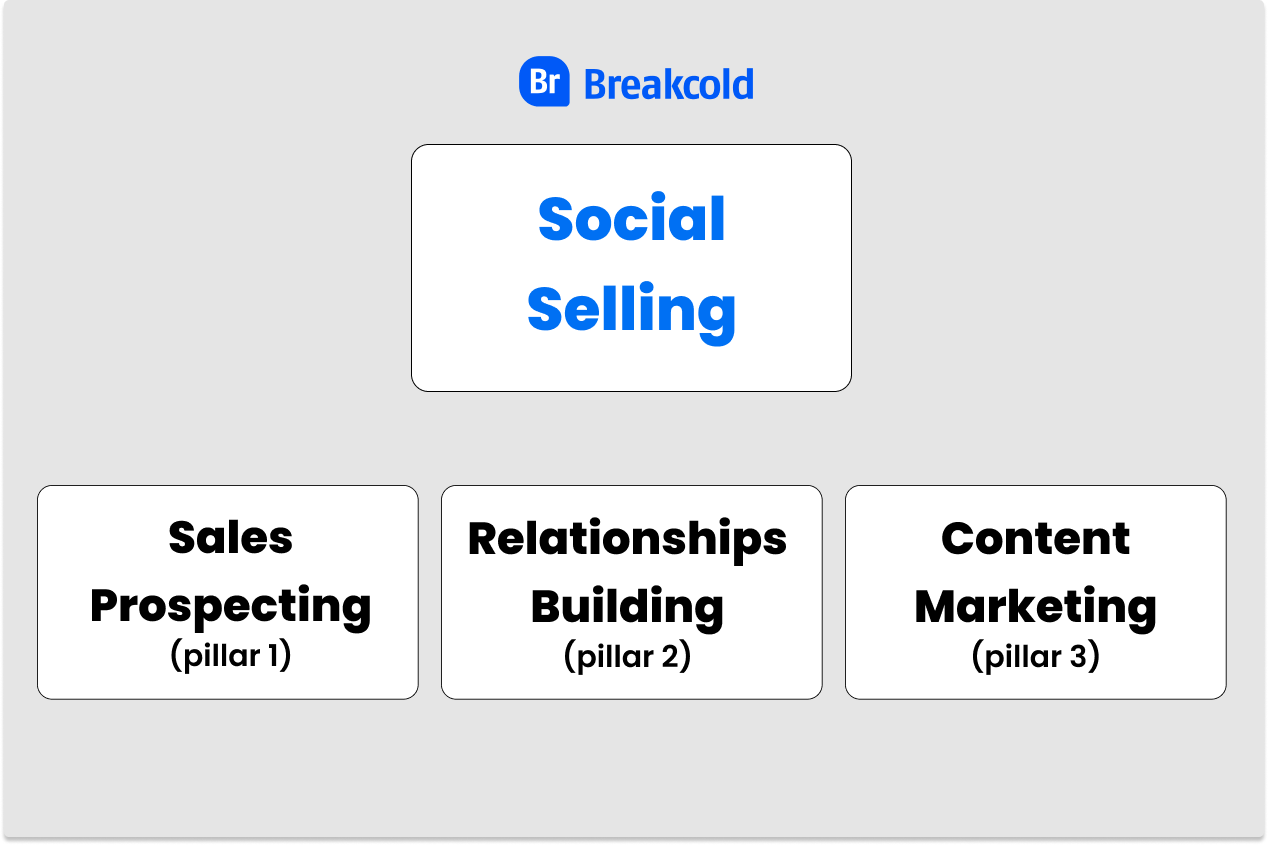 The three pillars of Social Selling
Lie Number 2: social selling is for "Boomers"
I had a call recently with a former Head of Sales of a big lead generation agency in France. He told me that it was funny that we're all about social selling because it's used to be attributed to boomers (in reference of the baby boom, meaning that only older people are preaching social selling).
Well, it's kind of true when you think about it. If you go to Sales Navigator and look for social selling aficionado, you'll always end up with the above-mentioned profiles. They're all talk about the LinkedIn Social Selling Index (SSI) like it's an obscure science when it's actually pretty simple to handle.
Example of an older man doing Social Selling on LinkedIn
But when you look at the bigger picture, social selling is on the rise consciously and unconsciously. This Google Trends curve speaks for itself.
If you compare it with the cold emailing curve, I think we're far from reaching a peak.
We can also find some evidence of the rise of social selling in the Gen Z and Millennials in general but also in the people under 40 years old with this kind of posts on LinkedIn.
Lie Number 3: social selling is time consuming
When you do social selling, you need to:
prepare valuable content to posts on social media
engage with prospects and B2B influencers (ie liking and commenting their posts)
do multi-channel prospecting by sending DMs and cold emails
For some people, it feels like it takes forever to do any of these 3 tasks, so all of them seems impossible.
Executing these three pillars is not difficult and is not time consuming, you just lack focus and processes. The first issue is due to our generation I believe and the amount of distractions we have in both our personal and work life. You need to work on your focus.
The time saved with this prospecting method is incredible
The second issue can be solved by creating repeatable processes for yourself. But you can also use the frameworks create by social sellers. Social selling tools are made to save you time on the three pillars mentioned above so you don't have any excuses.
You can look at Justin Welsh course for LinkedIn and at Dagobert Renouf one for Twitter. Finally, you can watch this video we made about sales prospecting and social selling where we give a complete framework to make the whole thing working rapidly.
Example of the Twitter course from Dagobert Renouf
Lie Number 4: social selling isn't scalable
Social selling is scalable if you're using social selling tools.
"You can't engage with more than 40 prospects a day". Yes you can, if you're using a social selling tool!
I personally engage with more than 100 prospects a day in under 1 hour. It all comes down to using a social selling tool (mine with Breakcold) and being focused. And 100 prospects engaged every day with social selling worth easily 1000 cold emails send a day.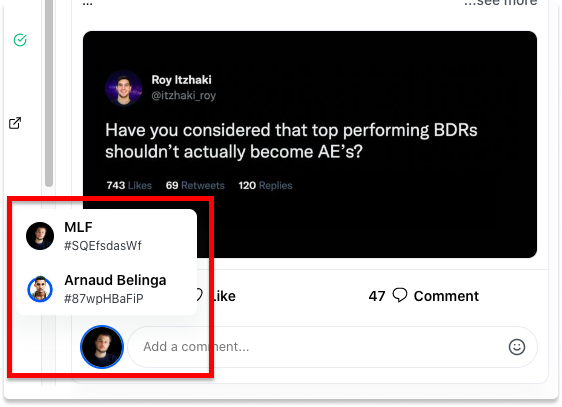 You can scale social selling with team members who engage on your behalf
There are other ways to scale social selling:
hiring VAs (Virtual Assistants) to engage with your prospects on your behalf
using your marketing team members to prepare the posts of every team members (from SDRs to Founders)
hiring Ghostwriters for the content scheduling part
Lie Number 5: social selling can't be automated
Social selling can be automated.
You can use AI to get inspired to write your content. You can use ChatGPT, Tweet Hunter or other AI tools for it.
Example of LinkedIn posts automated aggregation to build B2B relationships faster
You can use data aggregation (which is a form of automation) to aggregate all the LinkedIn posts and tweets of your prospects into one place so you don't have to open hundreds of tabs a day to engage with them.
You can use your social selling tool to avoid switching softwares and browser to contact prospects. You can build automated sequences and much more.