1°) What is a Social Selling Software?
First, what is social selling? Social selling is the use of social media to make more sales online. In a sense, it's very broad because you can make sales online with Facebook, TikTok, Twitter, Instagram, LinkedIn or Pinterest.
But when it comes to B2B sales, social selling is mainly about LinkedIn and Twitter which are the main B2B social media platform right now.
Compare to what is commonly known, social selling is not just content scheduling by using softwares like Buffer for example. In the words Social Selling you have the word "Selling".
The three pillars of social selling
Therefore, social selling is a mix of three things:
sales prospecting (1)
BB2 relationships building (2)
content marketing (3)
These 3 components of social selling can be found all at once in the same software even though most social selling softwares specialize in of the three.
Ultimately, the goal of a social selling software is to build more relationships with your cold and warm prospects as well as clients.
1/ The sales prospecting component of a Social Selling Software
Sales prospecting softwares are generally around cold calling and cold emailing. Therefore, it's mainly outbound sales softwares, although they can be used for inside sales too.
Some social selling softwares like Breakcold have been designed to generate leads with the use of social media.
You can use the LinkedIn news of your prospects for sales prospecting
Basically, instead of using traditional sales techniques (eg cold call / cold email), these softwares will help you speed up your process on LinkedIn prospecting, Twitter prospecting and multi-channel outreach in general.
2/ The B2B relationships building component of a Social Selling Software
Every top salespeople knows this: the best sales you make are the ones when you're not selling but when you're building relationships.
Building relationships in B2B sales traditionally takes time. You don't build relationships quickly with emails, prospects don't have time to be on the phone or in a zoom call all the time (so do you).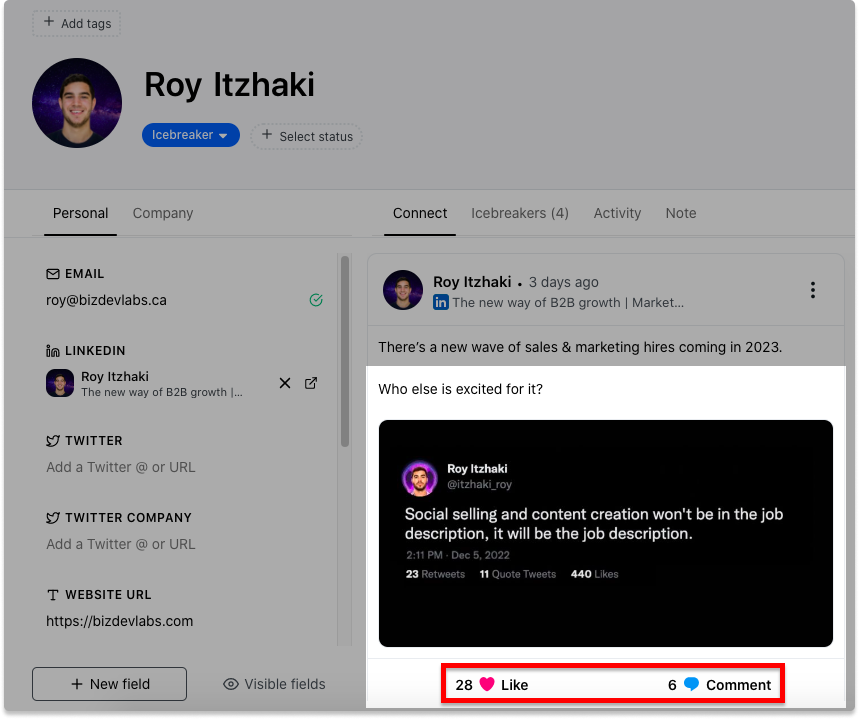 It's basically a CRM on steroids
A social selling software will help you bridge that gap by engaging with your cold and warm prospects.
3/ The content marketing component of a Social Selling Software
This is probably the most known component.
Content marketing is the action of posting content on social media to create brand awareness and generating inbound leads.
With the rise of B2B personal branding, content marketing is all over the place on platforms like LinkedIn, Twitter or TikTok.
This is an example from FeedHive
In this sub-section of social selling, the dominant softwares in the content scheduling softwares are: Buffer, Hootsuite, Taplio, Feedhive or ThreadStart.
These softwares are designed to build an audience or to maximize the amount of inbound leads generated with automation features.
They also help you on your copywriting by aggregating the top performing LinkedIn posts or tweets in your niche to inspire you.
An example of scheduled content
Some of these softwares also use AI to help you write your content. It's not my favorite thing as the content is often generic.
Finally, some of these social selling softwares allow you to reply to your comments from their platform which means you are super productive (I personally use FeedHive for scheduling my content).
2°) What are the benefits and disadvantages of a Social Selling Software?
Compare to sales softwares, social selling ones are still in their infancy but they're quickly catching up.
1/ Benefits of a Social Selling Software
Benefit 1: acceleration of your sales pipeline
If you build B2B relationships faster, you'll close leads faster. Therefore, you'll accelerate your sales pipeline.
Benefit 2: sales prospecting is more enjoyable
It's like scrolling and interacting with friends but you make money
For your prospects but also for yourself, using a social selling software will make sales prospecting a lot more enjoyable.
On the prospect side, it's not agressive automation so they'll be more encline to start a conversation with you.
On your side, doing social selling is a less repetitive work compare to cold emailing and cold calling. The LinkedIn posts or tweets shared by your prospects are never the same, it's always different interactions. You also don't have to do tedious tasks (see benefit 4 for example).
Benefit 3: you make more sales while building a brand too
Because social selling makes you active on social media, you're also building a brand by commenting and liking posts of your prospects or B2B influencers ones.
Because on every interactions, you will have more impressions and potentially profile visits which increase brand awareness over time.
Social selling helped me reach more than 8,000 followers on Twitter
Benefit 4: time saved on manual data entry
It's one example among many but compare to traditional sales softwares, many tedious tasks are automated so you can avoid manual data entry as much as possible.
2/ Disadvantages of a Social Selling Software
Disadvantage 1: lack of integrations (for now)
As the time of this writing, most social selling softwares lacks of CRM integrations or integrations with other softwares natively. There are integrations with Zapier or Make but it's not enough yet.
I believe this problem will be quickly solve as these kind of platforms evolve.
Example of social selling integrations with Breakcold
Disadvantage 2: not designed enough for teams
Most social selling softwares are in the content scheduling space, they are usually not designed for teams but for individuals (Indie Hackers, Freelancers, etc).
Some softwares like Breakcold though, are thought for teams but it's not very common.
You can engage on behalf of your team members
3°) What are the use cases of a Social Selling Software?
I already covered the use cases of a social selling software in another article so I'll go quick on this.
But basically, with a social selling software you can:
Warm up leads before contacting them (Social Warming)
Hyper-personalize cold emails or cold DMs
Stay top of mind during a deal to win it
Increase retention by bonding with existing clients
Build engagement lists with B2B influencers for key partnerships
Grow a personal brand or company one
1/ B2B Social Warming
The goal of B2B social warming is to engage prospects on social media (likes and comments under their posts) before reaching out or sending a LinkedIn invitation for example. It's a huge booster to get close to a 100% reply rate.
This is an example of a prospecting feed to engage with many prospects in a productive way
2/ Staying top of mind during a deal to win it
The goal here is to use your social selling software to close deals by interacting with prospects posts after they became warm leads so they become paying customers at some point.
You basically go into their head as the no-brainer first choice to solve their pain point.
This how you can use a social selling pipeline to close deals faster
3/ Hyper-personalize cold DMs or cold emails
Thanks to data aggregation, you can quickly hyper-personalize cold emails or direct messages at scale without doing a groundwork research on your prospects.
You can craft cold email opening lines super fast with social selling
4/ Increase retention by bonding with existing clients
It's not because you closed a deal that they'll stay with you forever. If you want to increase retention and leverage word of mouth, you'll need to build a strong bond with your clients.
That's where a social selling software will help you as well without sending boring automated sequences because you don't have time to track their activity on social media.
5/ Building engagement lists with B2B influencers
You don't contact B2B influencers like that. They reply to more than 200 comments a day, they are drowning in warm and cold DMs.
To get their attention, you'll have to build a true social selling strategy.
B2B influencers in the list mode vs the prospecting feed mode
6/ Grow a personal brand or company one
If you're not into the "selling" part of social selling, namely the sales prospecting part, you can still use a social selling tool to build and grow a personal brand.
In that regard, a social selling tool in the category of content scheduling will do the work for that.
4°) Can a Social Selling Software replace other sales softwares?
Depending on the industry you're operating in, a social selling software can definitely replace your sales software.
If you're selling online in a B2B environment, you can do everything that you could do with your sales software on a social selling one while also having powerful social media integrations.
Traditional sales softwares are not designed to build genuine B2B relationships with social media
Some social selling softwares like Breakcold integrates a powerful cold email tool, email warm up and other features of a traditional sales software.
However, if you are focus on cold calling to grow your business, a social selling software won't be able to replace that.
5°) Why Social Selling Softwares can replace a Sales CRM?
The more social selling softwares evolve, the more they take a CRM route.
Let's talk about it for a minute. What is the goal of a Sales CRM? Making more sales right? For that a sales CRM uses a sales pipeline, analytics and many integrations to make your life easier.
Traditional CRM vs Social Selling CRM
All of this are features of a social selling software. The only difference is that it also has social media integrations to allow you to make sales in a modern way, not in 2010.
Obviously, social selling softwares are not as powerful as a Pipedrive yet but I believe that in the future this kind of softwares will be a threat for them.
Why?
Because the goal of a social selling software it to build relationships with prospects. That's what a CRM is all about, it's just a new way to put it.
6°) Who can use a Social Selling Software?
A social selling software can be used by:
startup co-founders
agencies owners (especially lead generation agencies)
solopreneurs (including freelancers)
marketing teams
sales teams (SDRs, BDRs, AEs, Head of Sales)
1/ Use cases for startup co-founders
As a startup founder, a social selling software can be useful to:
bond with peers to build a brand
have an all-in-one tool for sales prospecting
find your first 100 customers
2/ Use cases for lead generation agencies
As a lead generation agency, a social selling software can be useful to:
get more results for startup clients
personalize faster their cold outreach
close deals faster with relationships building
3/ Use cases for solopreneur
As a solopreneur, a social selling software can be useful to:
have an all-in-one sales tool that is affordable
focus on the few leads generated to maximize the amount of deals closed
generate word of mouth to get more clients
4/ Use cases for marketing teams
As a marketing team, a social selling software can be useful to:
generate high-value leads for the sales team
participating in the closing phase of a deal by interacting with prospects on social media
build key partnerships with B2B influencers
getting strong backlinks on targeting specific individuals
grow the personal brand of the whole team and company
5/ Use cases for sales teams (SDRs, BDRs, AEs, Head of Sales)
As a sales team, a social selling software can be useful to:
generate leads faster
close deals faster
avoid manual data entry for LinkedIn prospecting and Twitter
avoid switching between softwares, tabs & browser to engage and contact prospects
execute multi-channel prospecting
7°) Why Social Selling Softwares perform better than traditional sales softwares?
On a final note, I'd say that social selling softwares perform better than traditional sales softwares because they reflect how people buy these days.
As everything gets commoditized, building relationships with prospects will be key to make more sales, especially with B2B. That's where traditional sales softwares are weak as they focus on aggressive automation for most of them and the users of this kind of platforms are not educated enough to make this properly work.
On the opposite, social selling can't be automated (or it won't work) like sales prospecting. They reflect the modern buying process, that's why they'll win overtime.
About the buying process, some softwares like trumpet understood it and are creating a new category called: Buyer Enablement Software.
Social selling softwares are also good at enriching B2B contacts