Introduction: why you need a social selling strategy?
Since I learned how to do social selling with LinkedIn & Twitter, I have way better results for my SaaS company.
But when I got started, I had no social selling strategy at all and wasted tons of energy trying many things. I believe that if you don't have a rigorous process, you're gonna loose.
This article is a compilation of the social selling strategies that worked for me.
Full disclosure: all these strategies include using my own social selling software, Breakcold.
PS: if you need to see real life social examples, you can check out this article.
1°) Social Selling Strategy to drive more business from LinkedIn
Prospects on LinkedIn are getting smashed with LinkedIn InMails, LinkedIn automation tools & spammy people. You need to stand out, it's not 2015 anymore.
1/ Prepare a list of B2B influencers in your niche
Social selling is not only about selling to regular prospects but to get visibility and build long-term partnerships with B2B LinkedIn influencers.
It's simple:
if B2B influencers like you, they'll amplify your reach
if they amplify your reach, you have more leads, more authority so you can sell more easily your product or service
This is an example of a B2B influencers database
See B2B influencers as future business partners.
To prepare a list of B2B influencers in your industry, you can use some B2B databases or simply use the LinkedIn search bar and typing keywords in your industry.
Once you have found one micro-influencer in your industry, look at their activity to discover even more people. They tend to interact a lot between each others so it shouldn't take you long to find a tribe in your niche.
2/ Prepare a list of a 100 ideal prospects
If you don't know your Ideal Customer Profile, then quit this article and go back when you it. Knowing your prospects is essential, so work on it first.
The goal is to prepare a list of a 100 prospects that you know 100% that they can become paying customers at some point, in like 1, 3, 6, 12 months.
To find your 100 ideal prospects, we personally use Apollo.io, but you can also use LinkedIn Sales Navigator for much up to date info.
Social selling tip: take prospects who posted on LinkedIn in the past 30 days
Why only a 100 prospects?
Depending on how much is your product or service, you will have a better Return on Investment (ROI) if you focus on fewer prospects with the intention of closing all of them rather than shooting some LinkedIn automated campaigns.
Here's an example to show you my point:
your service offer or SaaS contract is $2000/month
Example 1 - LinkedIn automated campaigns
1000 LinkedIn connections sent
30% acceptance rate (above average)
300 DMs sent
14% reply rate (average)
10 interested
2 closed
In example 1, you've closed $4000 per month. The process of automating LinkedIn prospecting is dangerous for your account and you can damage your reputation for the other prospects who didn't like the approach.
Example 2 - Social selling strategy by Breakcold
100 ideal prospects (you know they will close at some point if you're persistent)
90% acceptance rate
Engagement with 90 prospects
90 DMs sent
95% reply rate
50% interested now, the other half might be in 3, 6, 12 months
20% closed (below conservative)
In example 2, without being optimistic about closing rate, you can close $18,000 per month. You haven't put your LinkedIn profile at risk and you still have plenty of opportunities to expand your prospecting list.
Example 1 doesn't take more time that example 2 to execute compare to what people may think.
I really like this view on Social Selling
3/ Put the 2 lists into a LinkedIn Engagement Tool
Once you have prepared your two prospecting lists, you need to import the data into a LinkedIn Engagement Tool with Sales CRM features.
Why? Because this kind of tools will allow you to be hyper productive in your LinkedIn prospecting.
If I have CSV for example, I will import it into Breakcold and then drag and drop the columns of my CSV in the right slots. I will then put my prospects & B2B influencers into different lists.
Creation of a list in Breakcold
I have different lists for different purposes
4/ Build a sales pipeline for all contacts
Having your prospects into engagement lists is not enough, you need to assign them sales tags in order to build a sales pipeline.
The goal is to move your prospects throughout their sales journey so you can execute the necessary actions at any stage.
Example of a sales pipeline for warm leads
This is a social selling sales pipeline example for your prospects:
cold
engaged
contacted
replied
called
interested
closed
churned
For B2B influencers, you don't need to be that specific as your goal is to build relationship with them at any given time.
Sales pipeline for influencers
5/ Engage with these people on LinkedIn, then send a connection request
Time to engage! For that, I use the social selling feed of Breakcold (we also call it a prospecting feed).
Basically, your job is to engage with your prospects & B2B influencers LinkedIn posts before sending them an invite request.
Example of the social selling feed
Why?
Because it will jump your acceptance rate close to 100%. Yes, I said 100%. The best way to execute it, is to send the LinkedIn connection just after they replied or liked your comment under their post.
You don't need to add a note to your LinkedIn invitation by the way. It takes time and reduces your acceptance rate in most cases (assuming you don't personalize it a lot).
6/ Expose your targets to your content for at least a week
People don't like being pitch slap. Wait a few days before reaching out to them unless you saw a strong opportunity to do so.
Instead let them be exposed to your LinkedIn posts so they will get familiar with your face a bit. Indeed, if you engage with them they will see your LinkedIn posts in the beginning of their feed.
7/ Try to post 1 valuable piece of content per day (optional)
Not every sales representative or agency founder has the time to post every day on LinkedIn. But if you can, it will benefit you a lot.
Try to talk about things your prospects and B2B influencers may like. Always talk about yourself using storytelling to give out B2B stories about your product or service.
Why talking about yourself? Because it amplifies profile views which will bring your more website visitors (ideal to generate inbound leads).
You can see on this image how Justin Welsh is consistent for example
8/ Keep engaging with your targets during engagement blocks in your calendar
Every day, take 1 hour to switch between social selling feed and sales pipelines to engage with your targets.
You should create an engagement slot in your Google Calendar
That way, you'll be top of mind and they might even contact you even before you reach out to them. It happens to me all the time!
The social selling feed adapts to your sales pipeline within a list
9/ Reach out to your target when it feels the most natural
This is how I like doing this:
I scroll Breakcold socia selling feed
I like & comment posts of my prospects
When it's relevant, I click on send DM
Company news populate on the software
I have now all informations in one place to craft a hyper-personalize DM
Company news populate when you're about to reach out a prospect
Then repeat all the steps to contact super quickly many other prospects.
Example of a cold LinkedIn message I've received
10/ Things to do on the side of step 1 to 9
You can combine social selling strategies explained in step 1 to 9 with traditional sales prospecting ones:
sending highly personalized cold emails from news you saw on LinkedIn
sending Twitter DMs from news you saw on LinkedIn (original approach)
2°) Social Selling Strategy to drive more business from Twitter
Twitter is so underrated for social selling, it's crazy. Concepts are pretty similar to LinkedIn but there are a few tweaks.
1/ Prepare a list of B2B influencers in your niche
See LinkedIn social selling strategy above.
2/ Prepare a list of a 100 ideal prospects
See LinkedIn social selling strategy above.
3/ Put the 2 lists into a Twitter Engagement Tool
See LinkedIn social selling strategy above.
4/ Build a sales pipeline for all contacts
See LinkedIn social selling strategy above.
5/ Engage with these people on Twitter, then send a DM
Compare to LinkedIn, you don't need to be connected with people to send a Twitter DM.
However, you DMs won't go to the inbox of your recipient if they don't follow you. In other words, if you send Twitter DMs to strangers, you will go to their cold DM request inbox.
That way, make sure to keep your message super short like we advise for cold emailing.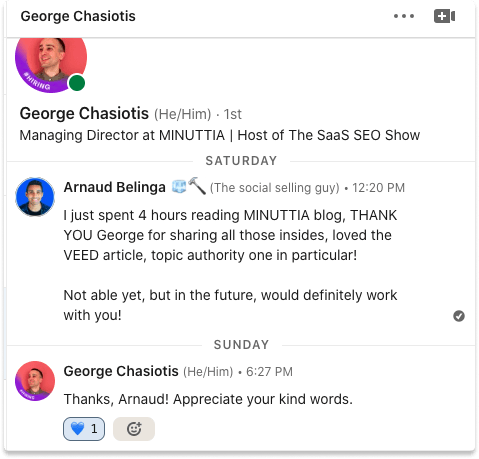 Example of a social selling message I sent
6/ Things to do on the side of step 1 to 9
See LinkedIn social selling strategy above.
3°) Social Selling Strategy to do multi-channel sales outreach
Not many people do social selling in a multi-channel way. Most people stick to Discord, Quora, YouTube, Twitter, LinkedIn but none of them do it cross channel.
I have 2 examples in mind that work really well for me.
1/ Use news of your prospects on social media to send hyper-personalized cold emails
Pretty simple. You saw a LinkedIn post from a prospect for example, you liked and commented the post quickly with Breakcold.
Then you decide to send a cold email instead of a LinkedIn message. People don't hyper-personalize cold emails a lot so you will automatically stand out.
Use the topic of your prospect LinkedIn post as subject line
Add a sentence about his/her company news as well
2/ Send LinkedIn DMs from Twitter news of your prospects and vice-versa
It's basically the same strategy as described above but with Twitter, nothing exceptional here but it works like a charm for modern sales prospecting.
4°) Social Selling Strategy to implement as a sales rep team
Every modern sales team should implement a social selling strategy. Beyond the three examples we gave in this article, we also need to talk about personal branding of the team.
1/ Design a common memorable personal branding for the team
Each employee should brand themselves in the colors of their companies, it would be good for their personal branding but also for the company they work in.
Example of a personal branding for employees
2/ Each employee builds authority in their respective part of the job
If there's only sales reps, then all of them will talk about sales and some personal stuff in their posts. But imagine you have like customer support people, it would be great that they build authority in their own expertise.
It will also help to attract top talents in various departments.
3/ Set up engagement pods techniques to amplify the reach of the team
In plain english it means:
someone from the team post on LinkedIn
other team members need to like & comment the post to give it reach
That's it, nothing complicated.
4/ Coordinate publishing of the posts when you have big news to announce
Imagine you have an upcoming big news in your company like a funding round, it will goes like this:
Brian posts at 9am
Juliette at 11 am
David at 12 pm
and so on until day 2
You want them to give your company a 24/24 visibility and not to use all your social selling ammo at once.