I see many of our new sign-ups getting wrong the difference between cold email and email marketing. That's why I decided to make things clear with this article.
1. What is the difference between Cold Email and Email Marketing?
With email marketing, you generally send a newsletter to a list of subscribers. On the opposite, with cold email you send emails to strangers in order to get clients, backlinks or grow your network.
So basically, the main difference between cold email and email marketing is that one is for outbound and the other is for inbound.
Picture showing the difference between cold email and email marketing
Cold Email is for outbound
Cold Email is suited for outbound.
This means that your objective is to turn cold prospects who don't know about your product or service into leads, before eventually turning them into paying customers.
We also talk about warm leads when you cold email a prospect that might have interacted with your content before.
Sending outbound emails are the job of many SDRs (Sales Development Representatives) & BDRs (Business Development Representatives) to generate leads for their company.
Therefore cold emailing is associated with sales people or any given person whose objective is to bring qualified B2B prospects to their company.
Example of a Cold Email
Cold emails don't have any HTML structure compare to email marketing ones. Not having any HTML structure means that cold emails don't have crazy design and formatting which is the case of email newsletters. They look like regular emails we send to friends and family.
What a cold email looks like in a cold email software
However cold emails can also be sent with a cold email software to automate the follow-up part.
Email Marketing is for inbound
Email marketing is suited for inbound, so the objective is to turn warm leads who signed up to your product or service into paying customers.
What an email looks like in email marketing
Email marketing is also use to send newsletters to a list without any intent of selling anything.
People who do email marketing are not sales representatives, account executives or head of sales but rather head of marketing and people working in marketing in general.
They're also many agencies specialized in designing and writing email marketing newsletter for example.
It's interesting to note that these people sell an email marketing service with the use of cold emailing. That's to me the best example to show the difference between cold email and email marketing.
Agency owners sell email marketing services with cold emails
Example of an Email Marketing
Emails from email marketing tools have many colors and call to actions in the form of a button.
Compare to cold email, you can't do email marketing if you don't have a software for it as 99% of people doing it don't know how to code and therefore how to modify the look of their emails.
Example of of an email marketing sequence in a software
2. Why people talk about Cold Email Marketing?
I don't know why but people tend to talk about Cold Email Marketing a lot. To me, it's an aberration because they mix two concepts together.
But long story short, cold email marketing means cold email for them.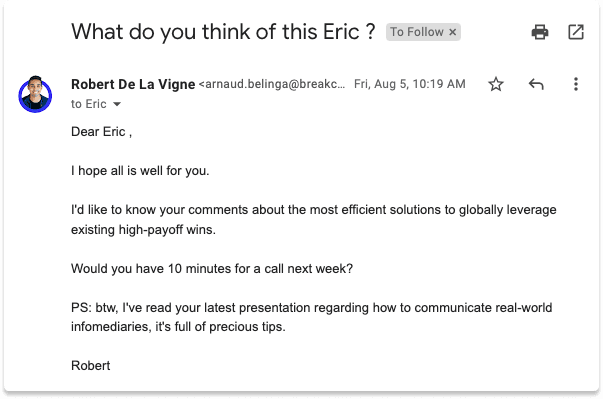 Example of a cold email from a warm up email
3. Why people prefer Cold Email over Email Marketing?
Some people use cold emailing over email marketing for a few reasons.
Less chances to go to spam with Cold Email
With cold emails, you have less chances to get into the spam folder because you use your own SMTP server from you email provider while with Email Marketing you use a third party one.
With email marketing, you share your SMTP server with other people. If one of these people is spammy with his/her emails, it will affect your own deliverability. To prevent that, email marketing software offers you the possibility to set up your own smtp server for higher costs.
Cold emailing has overall a better email deliverability thanks to concepts like email warm up or custom domain tracking.
Email warm up saves emails that go to the spam folder
You don't need to collect emails
You don't have to wait to reach out to prospects with cold emailing. You can just get B2B email addresses of your leads on some databases and start reaching out without waiting for them to sign up to your product or service.
A better open rate and reply rate
It's true that these two metrics are becoming vanity ones, however cold emailing clearly yields more replies and more opens than email marketing.
Example of a potential cold email reply rate
4. Why people prefer Email Marketing over Cold Email?
Although it's not recommended to use email marketing softwares for cold emailing, some people still prefer them for a few reasons.
More automation possibilities
Email marketing softwares are well-known for the amazing workflows that you can build. Workflows can adapt to what people do in your web application for example.
You can send more emails at once
Sending cold emails replicate human behavior so you cannot send thousands of cold emails at once with cold emailing.
However, with email marketing it's something easily doable. Back in the early 2000s when spam was not regulated a lot and when very few people used email marketing, some people were sending millions of emails at once without problems.
Modern cold email softwares check spam words too
Nowadays, you have to be more careful and need to justify the origin of your email addresses. All of this reasons make cold emailing more relevant than email marketing for prospecting.
5. What Cold Email and Email Marketing have in common?
Although cold emailing and email marketing have some differences, they also have many things in common.
High ROI
Both email marketing and cold emails have a huge ROI. The average ROI of email marketing is 42 for $1 spend.
It's surprising to think that SEO has a less ROI than emails
Easy to use
Both email marketing and cold emails are easy to use compare to other acquisition channels.
It only takes a few minutes to get started with emailing softwares
Unsubscribe link
You can add unsubscribe links to the sent emails to be GDPR friendly.
6. How I use both Cold Email and Email Marketing
This is a quick example of how you can use both cold email and email marketing.
I set up cold email sequences to generate sign-ups
This is the process:
I export leads from LinkedIn Sales Navigator
I import leads in my cold email software (Breakcold)
I set up a cold email sequence of 3 steps
Example of a simple follow-up email sequence
Once people sign-up, it starts an email marketing sequence
This is the process:
people sign-up to my SaaS (Breakcold)
once they've signed up, they automatically receive an email
every 3 days they will receive an email tutorials about sales prospecting
7. Cold Email vs Email Marketing: little Q&A
Let's answer some other recurrent questions about cold email vs email marketing.
Cold Email or Email Marketing: with which one should you start?
If you already have many clients coming organically, focus on improving your email marketing campaigns. If you don't have lots of clients, focus on outbound and start cold emailing now!
Can I send cold emails with an Email Marketing software?
In any way, don't use an email marketing software to send cold emails. You will have spam issues, it's not recommended and these softwares have not been designed for this use.
Can I send email marketing with a Cold Email software?
Same as above, each type of email technique has its own purpose.
Should you use an Email Marketing software or a Cold Email Software?
Why not both? You need to treat inbound leads as much as outbound leads, so adapt accordingly.
Do you recommend any email marketing software?
At Breakcold, we're fan of the work done at Sendgrid, Flodesk but we personally use Customer.io because of the complex email marketing sequences you can build.
If you liked this article, make sure to check our guide about cold emailing.